Chances are, you have heard nickname "Lipstick King" floating around, but you may not have watched one of his video streams. One of the most successful online beauty salesman in China, Li Jiaqi – also known as Austin Li – has manage to generate more than US$145 million in sales on Singles' Day by selling lipsticks through live streaming. In fact, in 2018 he was featured beside Jack Ma during the Singles Day Launch as he previously managed to sell 15,000 lipsticks in just five minutes.
Achieving this level of sales online does not happen by chance, especially for an influencer who is not a celebrity. Here are 6 marketing lessons that we can learn and apply to help us better market ourselves when selling online.
Find your Niche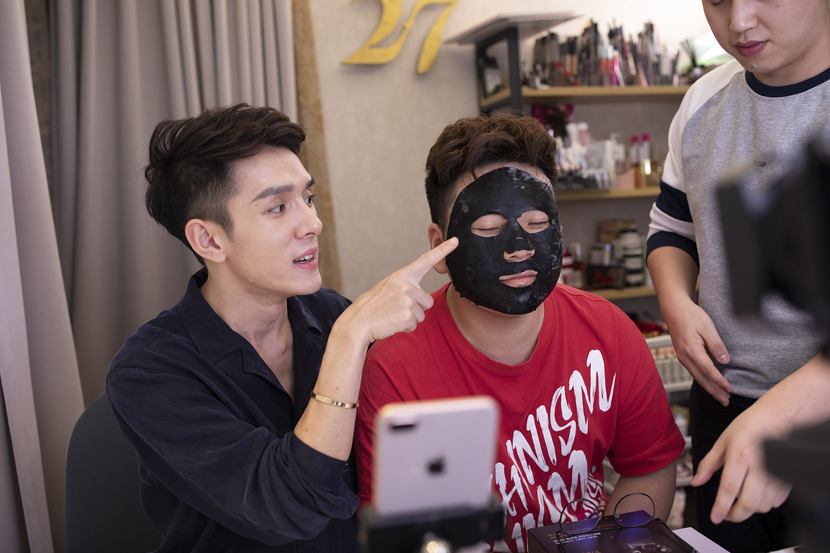 One of the major reasons Jiaqi attributes his success to is that that he's a male selling lipstick. This unorthodox approach has managed to get him many eyeballs as he stands out from the many female celebrities who usually promote a female product like lipstick.
Of course, this did not come without criticisms from some of his viewers who did not feel that this was "right" but nonetheless he managed to carve out a niche for himself and gained many loyal female fans.
This unique positioning has managed to allow him to find an entry point into one of the most competitive industries in the world – the beauty segment in e-commerce – and establish a reputation for himself.
What we can learn: The online marketplace is a red ocean with many competitors vying for the attention of the same users you are looking to target. Identify a differentiating factor for yourself to stand out from the crowd to succeed.
Showcase Your Product, Don't Just Tell
Nothing quite beats seeing a product live in action. He frequently tells his his audience : "Imagine if it looks like this on a guy, it'll look even better on you (as a female)". This helps give his female viewers a sense of relatability and confidence that they themselves will be able to pull off this look if they have this product.
Simply talking about the benefits of the product isn't enough for viewers to choose to purchase this over the others in the market.
After applying the product, he frequently leans into the camera to give his audience a closer look at how the lipstick looks on him. This allows his viewers to take a close-up look at intricate details such as the shade and gloss of the lipstick. While product photos can take a similar close-up look to showcase these features, the live-stream medium adds a layer of authenticity as they can see how the product looks like without much editing.
Let's not forget to mention that his good looks and clear complexion plays a part in selling the products to his female fans.
What we can learn: A picture is a worth a thousand words, much less a video. Showing your product in action and helping your users imagine themselves using your product is much more effective than simply words on its own.
Talk About Benefits Instead of Features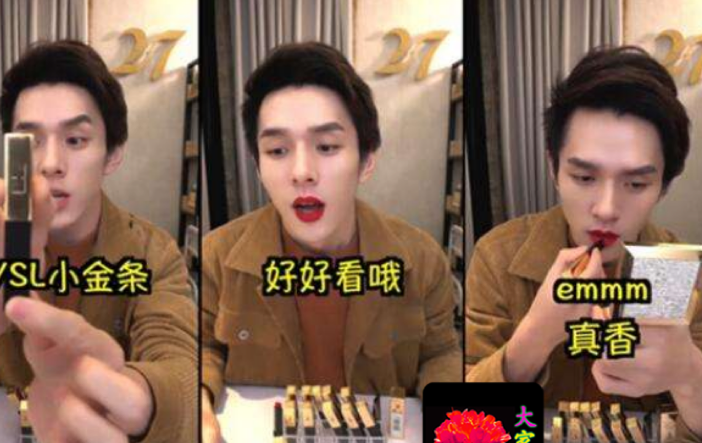 Throughout his livestream, Jiaqi frequently uses analogies to bring his viewers to a place of imagination. Phrases such as "(this product) makes your lips shine like crystals and jewelry with this colour of the lipstick" and "lipstick colour that a goddess would apply" gives the viewers a mental imagery of beauty and how this can make them just as beautiful.
On top of how the product looks, Jiaqi talks about comfort from his own personal experience such as how oily or watery the product feels the moment it touches his lips. This is reiterated after he applies the lipstick and showing the viewers the product up close so they can see how the benefit he mentioned is true.
What we can learn: For customers who are seeing the product for the first time, it's important to help them relate to what you are trying to promote, through analogies and examples. These benefits should also address concerns that they have when purchasing new products, such as how they feel and whether it's suitable for the occasion that they are using it in.
Use Audio To Grab Your Audience's Attention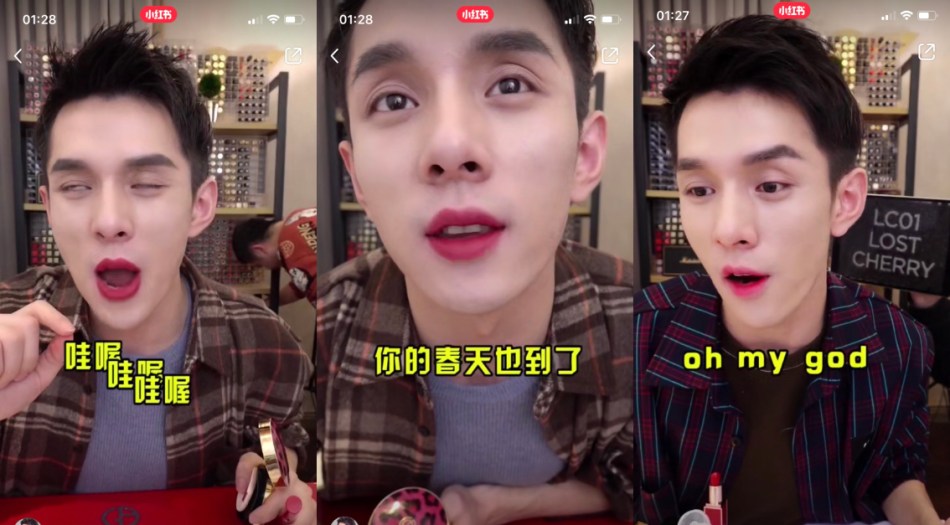 A distinct phrase that Jiaqi frequently uses is "Oh my God!" whenever he uses a product that he absolutely loves. The high pitch voice grabs your attention and gets you excited about the product along side him, making you curious about why he loves that product. He doesn't use this for every product, but when he does you can be sure that that product is going to sell like hotcakes.
Another popular phrase he uses is "Buy it, buy it, buy it!", as many of us marketers know as the Call To Action (CTA), for what you want the viewers to do. After getting your viewers raved over your product, explicitly telling them what you want them to do may seem very explicit but it works. This works perfectly with the next point that we'll be covering on FOMO and scarcity.
What we can learn: Visuals can attract viewers but remember that audio cues to get your audience excited is just as important. With many of us multitasking in whatever we do, there is nothing quite like a high pitched voice to bring your viewers' attention back to you.
Build Anticipation and Scarcity
After every product is featured, he'll do a countdown when the purchase link is going to be dropped. Within a matter of minutes and some times seconds, the product is sold out and no longer available for viewers who rest on their laurels.
Jiaqi also loves to mention how there is very limited stock and how he was personally unable to purchase the product when he first heard of the it. This sends off a cue that the product is loved by many others and you may not be able to get the product outside of the live stream if you're looking for it on other platforms.
This creates an immense sense of urgency to those watching that is highly driven by emotions rather than rational thinking, as delaying your purchase decision can cause you to lose out. The FOMO from those who had procrastinated and missed out on the purchase is sure to click the checkout button right away the next time a product they love comes up.
What we can learn: Creating scarcity creates the "want" for your product and drives emotional buying. Just as how there are "while stocks last" promotions, marketing on limited stock and building hype through viewers who didn't manage to get the product, is an incredible way to build the demand for your product.
Establish credibility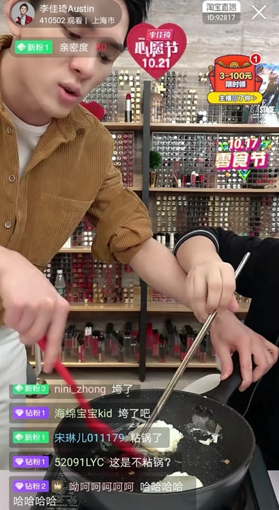 Above all, building your credibility as a brand and influencer is one of the most important qualities that must be protected. Jiaqi only promotes products that he would personally use, and also gives personal tips on how he would use the lipsticks from his own experience. In some of his live streams, he cautioned his fans that the lipstick is a bit heavy so it's unsuitable to be apply it to your entire tips or use it without makeup.
In a recent incident, his credibility was undermined where he was promoting a "non-stick" frying pan, but the egg stuck to the pan's surface during his live stream. This caused him to lose a lot of credibility as skepticisms formed around whether he's genuine about promoting products he love or it's just a sponsorship.
What we can learn: Building credibility takes time and brands need to be aware of the trust that their customers put with them. Brand loyalty requires consistency and can all go away at a moment's notice. Making sure that we put customers first is the key to building a long-lasting brand.
Summary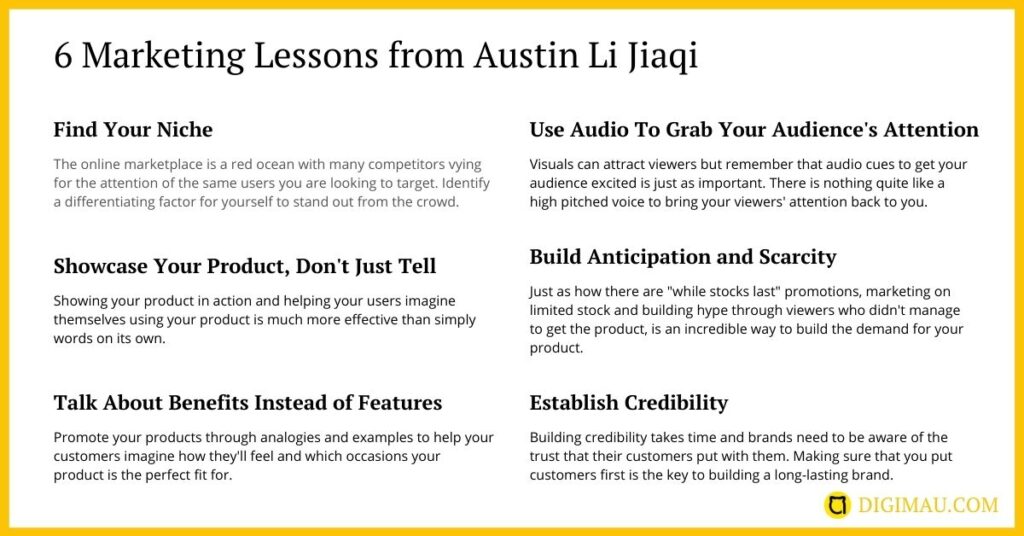 Ultimately, Li Jiaqi's success in the live streaming scene is a result of finding a niche within the market, putting himself in his viewers shoes and showcasing the product in a way that he as a user would view it. This, coupled with the credibility that he has built up over the years has allowed him to pull ahead of the crowd and make himself one of the top online livestream influencers.