In this article, we review one of the largest e-commerce platforms, SHEIN to figure out if it is worth a visiting or a scam.
SHEIN is one of the largest e-commerce retailer with close to US$10 billion in revenue, and a Series E valuation exceeding US$15 billion. Despite this, many of us have questions on whether SHEIN is a legitimate website or a scam.

With the e-commerce space being one of the reddest oceans in world, with competitors such as Lazada and Shopee giving massive discounts and drowning competitors down with their economic prowess. Yet SHEIN has managed to carve out a niche for itself amongst the young, price-conscious individuals who want are looking to showcase their unique style at an affordable price.

In fact, SHEIN has taken over the crown from Amazon as the most downloaded shopping app on iOS and Android in the United States, according to App Annie and SensorTower. Despite its massive size and clear appear, SHEIN still remains relatively low profile and there are very few conversations around how they managed to achieve this level of growth.
Assortment and Product Prices Review
As a company based in China, they are able to consolidate their manufacturing and distribution within the country that allows them to price their products more cheaply than other foreign competitors.
During my review, I opened one of the main tabs and it becomes immediately obvious that there is a wide selection of products (58,300 products excluding the different sizes and colour variations) and filters available.
Scrolling through the products, you'll find that the majority of the products are priced under $20 before including any of the discounts that the platform offers you. It's easy to see how you can get addicted to scrolling endlessly through the many different product designs and colours until you find one that catches your eye. At this point, they are not looking to get their visitors to make a purchase, but simply to "Add to Cart" or "Like" the product.
Sizing
Most of the products here are available in multiple sizes ranging from XS to XL. Do note that each of the products tend to have a slightly different cut and measurement so be sure to look at the size guide for the products you're interested in before purchasing. SHEIN has a size guide that you can refer to easily here.
The sizes are closer to Asian sizing so for most of the purchases I had to choose a larger size compared to other platforms like Amazon.
SHEIN also includes a "Curve + Plus" section that is very useful if you require a larger sizing as it helps you filter out clothes that will fit you with just a click of a button.
Buy Now Pay Later Solutions are available
Once you've shown interest in a product that you love, you'll discover that the price that you have to pay now is even lower that what was mentioned, with the option to make the purchase with 3 interest free payments so you just have to upfront $5.
Stacking SHEIN Discount Codes
While low prices are great at getting visitors to add your products to cart, there is nothing quite like being able to layer the low prices with other promotions to get the best bang for your buck.
From just the home page, you're hit with the First Order $4 Off discount on both the top bar and the side bar, 10% discount from downloading the app as well as the massive 55% off discount banner.
On top of that, you'll be given a unique discount voucher that gives you a percentage discount when you make a minimum order. While most of these discounts are not stackable, having different vouchers of a fixed and percentage discount certainly tempts you to purchase that extra piece to reach the next tier of discounts.
SHEIN clearly knows that their target audience comes to their website for their affordable prices, so instead of trying to get you to spend more on each of their pieces, they provide a discount and free shipping when you hit a minimum spend in a single purchase.
Shipping and Delivery
The biggest success factor of an e-commerce business is the delivery time, so I decided to make a purchase during this review to see if they were able to make the estimated delivery time.

Cost of International Shipping and Delivery
Shipping to your local country is extremely cheap at just $1.00 for standard shipping and free shipping if you just spend $40 on the platform. Express shipping is also available as an option with an additional top-up or you can get it for free if you spend a minimum $80 on the platform.
SHEIN currently offers shipping worldwide so you will be able to purchase from the platform wherever you are. Do note that the shipping costs and delivery times are likely to differ based on where you live.
Shipping and Delivery Time
Knowing that the products were based in China, I was expecting the product to take around 2 weeks to reach my doorstep in Singapore, especially with the congestion at country borders since COVID started.
To my surprise, they were able to get the product to my doorstep in just 5 days. In this case, I ordered some clothing at midnight on 30th June, and I was able to receive it at 4pm on 3rd July. Although the estimated delivery time is stated as slightly less than 2 weeks, both of my clothing arrived within 1 week from when I made the purchase.
On top of that, there were updates every day when I checked so it built up the anticipation for when the package would arrive in Singapore and in front of my doorstep.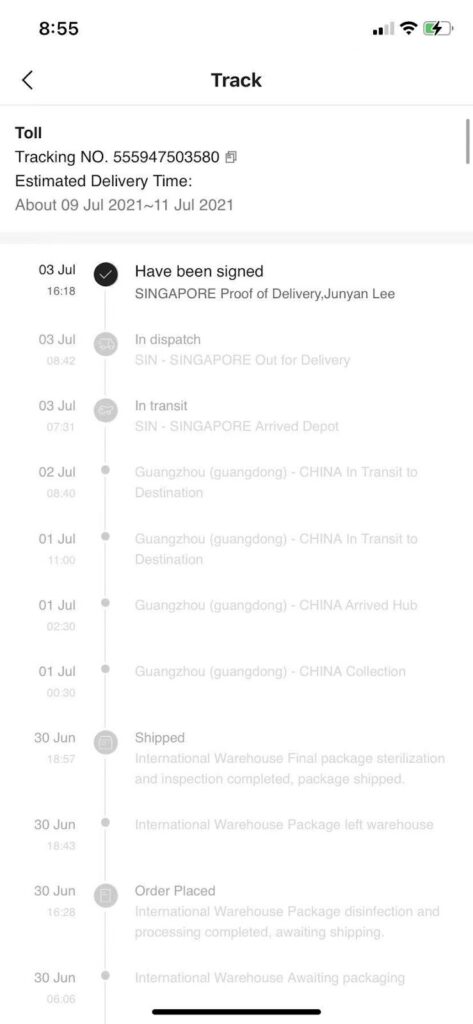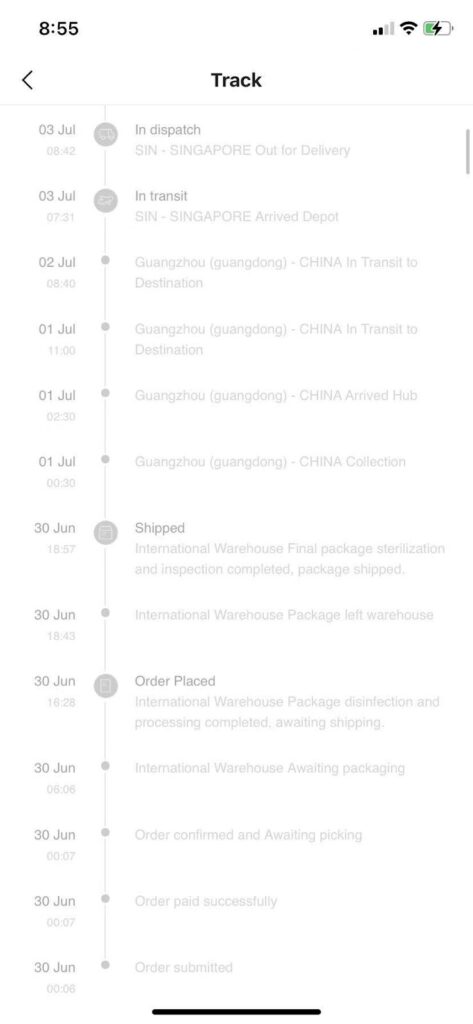 Compared to other platforms, SHEIN definitely has one of the most competitive shipping times to other platforms such as Shopee and Lazada. Furthermore, I made these 2 purchases using regular shipping, so you will be able to get your goods delivered more quickly if you opt for an express delivery.
SHEIN VIP Membership Tiers
After just a single purchase on the SHEIN platform, you'll receive a notification that invited into the SHEIN VIP Loyalty programme where you stand to win additional rewards when you hit certain milestones.
Reaching S1 and S2 isn't a challenge at all, as the average customer will be make at least 2 orders on SHEIN. SHEIN knows this so many of the rewards up to S2 are not very exciting.
Instead, the platform wants you push you towards reaching S3, where you'll unlock attractive VIP rewards including Speedy Refunds, Free Gifts, access to their style magazine as well as promotions that are exclusive to you.
In fact, there is a dedicated section right below the membership rewards section that showcases the additional discount that you can get as an S3 member, further playing into the discount angle that users love.
Review of the Membership Tiers
While most other brands create membership tiers that reward their most loyal customers (they can spend up to 5 digits with the platform), SHEIN has decided to take a different approach towards their memberships.
Rather than exclude the small spenders from getting access to the S3 tier, they offer two options for users to reach the level, either through a minimum spend or a minimum number of orders. The low requirements of reaching this tier helps the average spender reap the benefits that is offered towards this group of users, who would have become loyalist on the platform after either making 7 purchases or spending over $540 on the platform.
By opening up the S3 tier to any one that loves the platform instead of keeping it exclusive, SHEIN manages to nudge users who are close to the milestone to either spend more or make more transactions on their platform.
E-commerce platforms like SHEIN have a low Average Order Value, most of their customers purchase 1-2 pieces at a time given they are looking for an outfit that they can wear to a party that is happening in the next week.
Side note: If you're interested in finding out about what exactly each of these rewards are, I have compiled a further explanation on each of the benefits here.
SHEIN Affiliate Programme Review
Having great prices and customer experience from the platform is one thing, but getting your audience to know about you is equally important.
SHEIN does influencer seeding by working together with influencers on Instagram, Tik Tok and other social media platforms. By offering a commission on every sale as well as additional cash bonus when they promote SHEIN activities on their social media, influencers who are looking to monetize their content flock to the platform to register for their interest. Their followers also get a discount that is credited to that particular influencer's code if they heard about the platform through their social media post.
Working with SHEIN as an Influencer
The platform also does not have a minimum follower count, so this is a great incentive for nano-influencers (between 1,000 to 5,000 followers) who find difficulty getting collaboration opportunities. Affordable, stylish fashion primarily targets the younger demographic who are also the target audience of Tik Tok and Instagram influencers, so there is a natural fit for the beauty and fashion influencers to promote the SHEIN.
While I'm not personally an influencer, the inclusiveness of the affiliate program makes it easy for anyone who is a fan of their platform to help promote their products. The signing up process and tracking instructions are also clear so getting started on any platform (whether you're writing a blog or an influencer) is quick and easy.
Is SHEIN Ethical and Sustainable?
Given the prices that SHEIN is able to offer, issues such as sustainability and ethical work labour are unlikely to be one of the big concerns the company has at this stage. As with many technology companies, user growth and revenue and getting consumers to buy more is their main motivator.
While there is very little information on exactly how the working conditions and interviews on their stance towards ethical, the price competitive nature of the e-commerce business makes it difficult for them to focus on these areas now.
Overall Review
Personally, I'd recommend SHEIN for anyone that is looking for affordable, fast-fashion clothing as the pricing, assortment ranges and delivery is second-to-none. While the quality is not the best in the market, being able to scroll through tens of thousands of pieces and receive it within a week is revolutionary.
Whether you're looking for a new look for your next party or just want to spice up your wardrobe, I'll put SHEIN as one of the first platforms to check out.